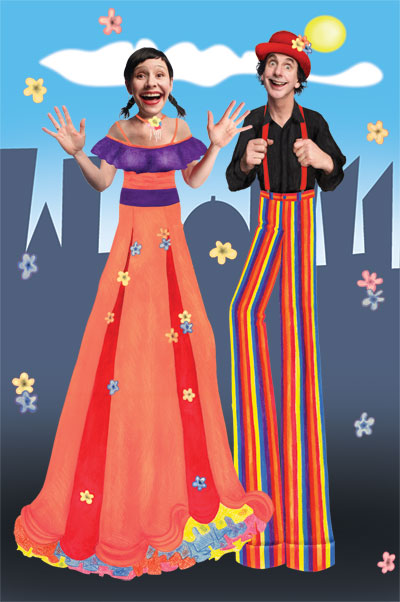 Tall Poppies are a larger than life comedy music duo. Performing on stilts in fab flower flavoured costumes, their highly engaging comedy skits, fun music and flower hats swaying to the songs are sure to make a splash at your next event.
Jen Hawley (vocals, ukulele and percussion) and Terry Cole (vocals, mandolin and whistles) will delight you with their wonderful and diverse repertoire of wandering minstrel musical magic … and all connected to the funny bone!
"These performers understand the beauty of a big visual and the joy of improvisation …. the tall poppies act … with or without the instruments demonstrates in a nutshell just what stilt walkers can do … so bring em on!" Cathy Dean, Cathy's Clowns.
You'll hear a fun mix of up-beat Jazz and Latin , thigh-slapping Gypsy tunes , Aussie bush and some good ol' country and all-time favourites …all with a touch of circus.
Video "Tall Poppies" running time 1 minute
Tall Poppies. the perfect roving entertainment team!
TuTwo
The gorgeous girls from TuTwo are ready to delight the ear and the eye with their magical, musical mayhem. This duo's fabulous fluff and frivolity is suitable for any event from festivals to fancy functions.
Featuring the talented Jen Hawley and Kyra Smith, the TuTwo's present an interactive and memorable performance featuring comic routines, circus skills and musical virtuosity.
Available with or without instruments, TuTwo can:
*jazz up your event with their fun and colourful costumes
*make a big bang at outdoor events with percussion grooves,
*make sweet music with guitar and flute
*or delight your guests as they meet and greet in their glamorous costumes.
The Belles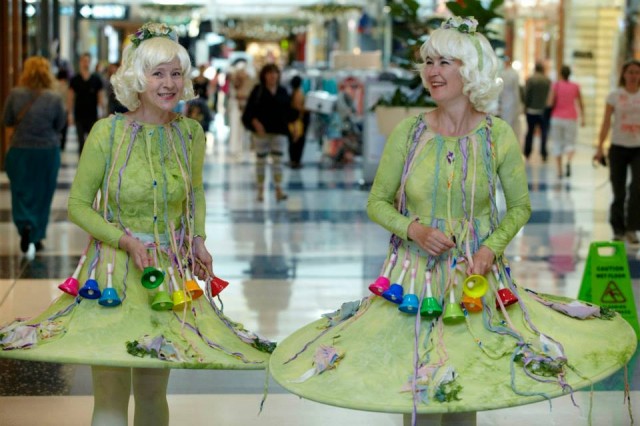 Looking for something a little different, a lot of fun and full of frivolity for your next event? The Belles are your answer!
Featuring the delightful Jen Hawley and Kyra Smith, this interactive music duo will delight both children and adults alike. Watch in fascination as they play the hand bells whilst moving through the crowd, singing and playing sweet songs.
Performances not only include great tunes (including Carols during the festive season) but also balloon animals, circus tricks, comedy and most importantly fun. Top this off with stunning dresses that float through the air creating a visual feast and you have The Belles.
Reviews
Frankston Children's Day. Jan 23 08. Thank you for today – you looked fantastic and you did a wonderful job engaging and entertaining the children and their parents, well done and thank you. Lucette Talbot, Arts Project officer. Frankston City Council — Urban Strategy
Moomba 2007. On behalf of the City of Melbourne I would like to thank the Tall Poppies for your involvement in the Moomba Waterfest 2007 Children's Garden Program. The Tall Poppies brought a unique sound and energy to the festival and as a result we have had exceptional feedback on all areas of the children's garden program. Additionally, I am very appreciative of your commitment, flexibility and professionalism during your engagement, yours sincerely Michell Bell, project coordinator.
The Bayside Festival held on Sunday 28 March 2004 on the Sandringham Foreshore was a huge success and featured three performance stages, 120 community, cultural and market stalls, street theatre and a range of spectacular entertainment. About 12,000 people attended the event. Sensational roving performers the Tall Poppies were a great hit.
Dear Jen and Terry Have just had a call from Margaret re. last night. She said you were great, so professional, entertaining, bounced off (not literally) one another, Fabulous! Thought you would like to know. Thanks again, Katrina, Orators & Creators.
Your stilt dance was wonderful. Lots of people commmented on it and loved it. The bride said it was amazing she had a ball and loved it and her friends thought it was great. Wedding Sofitel Hotel, Aug 04.
Thank you for your contribution towards making the 2006 Moonee Valley festival such a wonderful and colourful community event. Please pass on my thanks to the other poppies. Your performance at the festival was a great example of creating community connections. Ros Abercrombie, Festival Director.